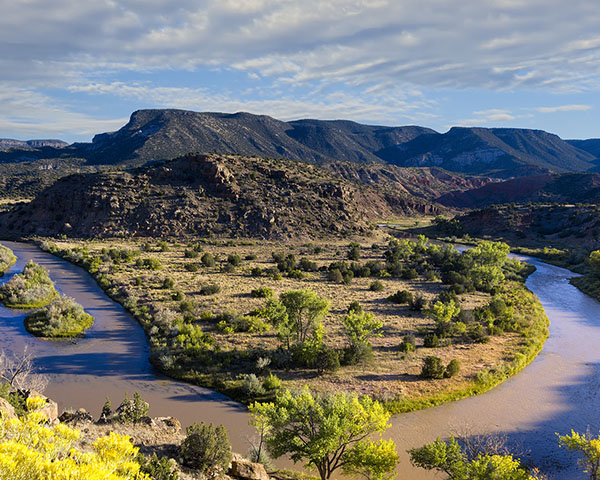 New Mexico has a long history of legacy environmental issues that have impacted the health of citizens including effects from the mining industry, the presence of national laboratories and Air Force bases, and the extensive footprint of the energy industry. In addition, climate change conditions such as the increase in particulate matter from dust storms and wildfires, an increase in allergens, risks of flooding and resulting water quality issues, and heat stress are also impacting residents' health.
These environmental factors, combined with our state's large land mass and rural populations, socioeconomic factors such as poverty, lower levels of education and substandard housing, and a general lack of community resources have all helped to contribute to poor health outcomes for many New Mexicans, especially those residing in underserved communities.
This legacy, along with the health impacts of our changing climate, were part of the impetus to forming the New Mexico Environmental Public Health Network in 2018. Our organization, compromised of medical, environmental and public health professionals throughout the state, is committed to binging a voice to the public policy space, advocating for environmental policies that positively impact public health.
The Network's Mission
The Network is a group of advocates, whose mission is to protect public health through education and advocacy for environmental policies that affect New Mexican communities. We are nonpartisan and encourage a diversity of viewpoints.
Values of the Network
Effective communication of environmental public health protection to policymakers
Advocacy of environmental protection
Collaboration and Partnerships with health professionals
Equity and Transparency
Listen, reflect, evaluate, learn, re-assess
---
Advisory Committee
as of November 1, 2021
Doug Meikeljohn, Conservation Voters of NM, Email
Denise Fort, UNM Law School retired, Email
Virginia Necochea, New Mexico Environmental Law Center, Email
Anna Rondon, New Mexico Social Justice Equity Institute, Email
Cara Lynch, Baake Law, lynch.cara.Email
Teresa Seamster, Sierra Club, ctc.seamster@gmail.com
Michael Bowers, NM Environment Department, Email
Dr. Lance Chilton, retired physician, Email
Melissa Ontiveros, American Public Health Association Committee on Climate, Health and Equity, Email
Alexis Brandt, Center for Health Innovation, Email
Sharon Finarelli, NM Alliance of Health Councils, Email
Shelly Mann-Lev, New Mexico Public Health Association, Email
Carol Romero Wirth, Wirth Law Firm, Email
Janene Yazzi, Sixth World Solutions, Email
Sam Baca, C0-Founder of NMEPHN, Email
Ally Beasley, Western Environmental Law Center, Email
Susan Wilger, Center for Health Innovation, Email
NMEPHN Contractor
Amy Miller, Email, 505-269-0287